We all know of famous brand-name Ford   GT40 in Blue
Consumer goods bearing the names of their entrepreneurial creators, as if the company founders still spent their days hunched over their drafting boards designing the next hit and overseeing the production of each handcrafted treasure. But the reality is, complex, sophisticated, modern products ‒ especially cars ‒ are created by teams of people, often laboring quietly in the background, and you may never know their names.
Even so, these employees are often as invested in the fruits of their life's work as the industry titans with their names on the factory. That's the status of the 2005 Ford GT (Lot #1375) shown here, to be offered with No Reserve at the 2020 Barrett-Jackson Scottsdale Auction, January 11-19. Its owner is Neil Ressler, one of the key figures involved in the creation of Ford's 21st-century supercar.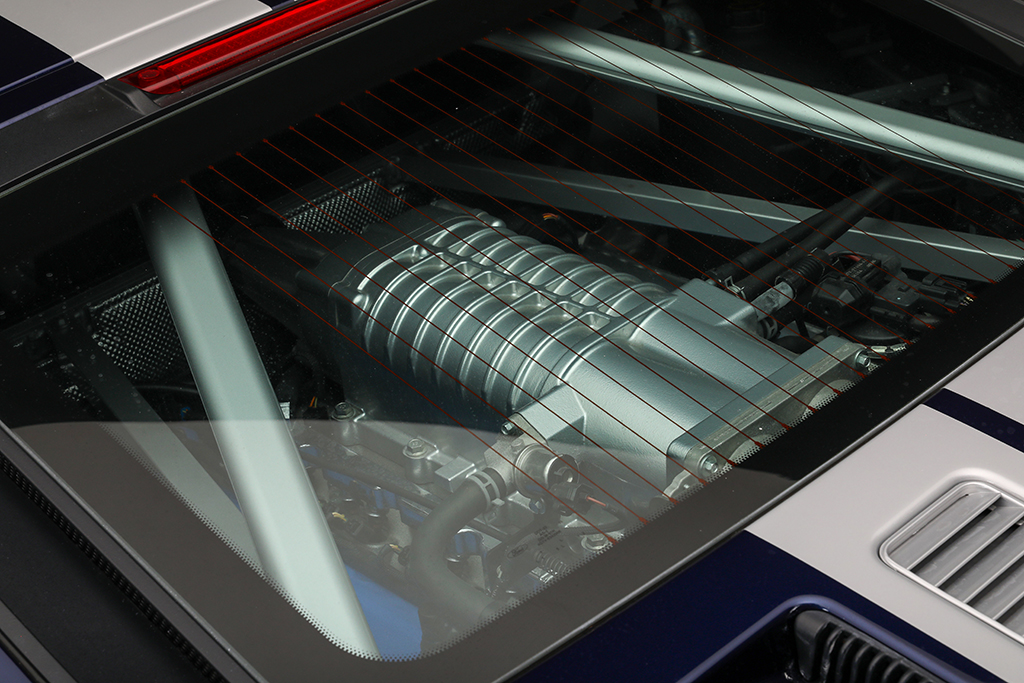 Ressler, a gearhead from a young age who went on to earn a PhD in physics, had a long career at Ford Motor Company. He rose to the level of Vice President of Research and Vehicle Technology and Chief Technology Officer, overseeing 11,000 technical people and a $2 billion-plus budget.
In 1993 he and Bob Rewey formed a small "skunk works" team within Ford to develop limited-production performance vehicles. This team later became known as Ford's Special Vehicle Team (SVT), responsible for the company's most memorable performance cars of the era. Ressler also held leadership positions in Ford's CART and F1 racing programs.
By the time the Ford GT supercar program had been approved and funded, Ressler had retired from Ford. But he was quickly brought in as a consultant to the project, which evolved into a leadership role for the design and development of the car. He was deeply involved from the beginning all the way until the engineering signoff in 2004.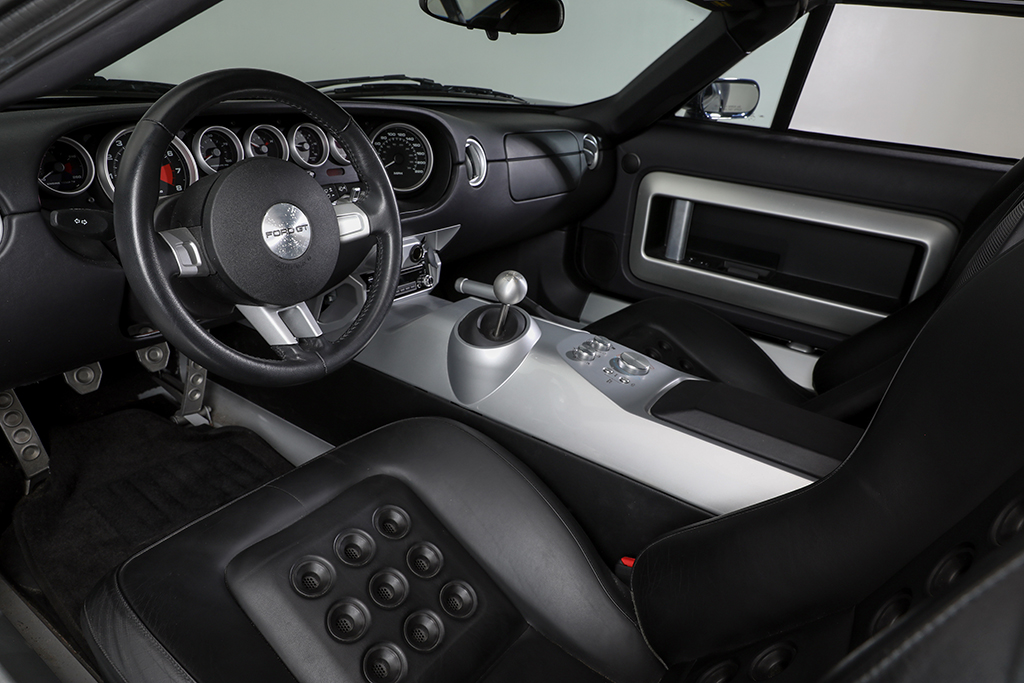 As such, he was not only an eyewitness to the car's origins, but a key player. "The design started in earnest in May 2002, and we had the first 'work-horse' prototype in November 2002. The program was a labor of love for all involved and it progressed with astonishing speed," Ressler recalled. "We felt from the start this would be a great car and that is how it turned out."
It should come as no surprise that, as an insider, Ressler's personal car would be something special. His is one of two Ford GTs built with an unapproved color code. Ford had spec'd-out Midnight Blue cars to only be paired with white graphics, but this example was fitted out from the factory with silver stripes.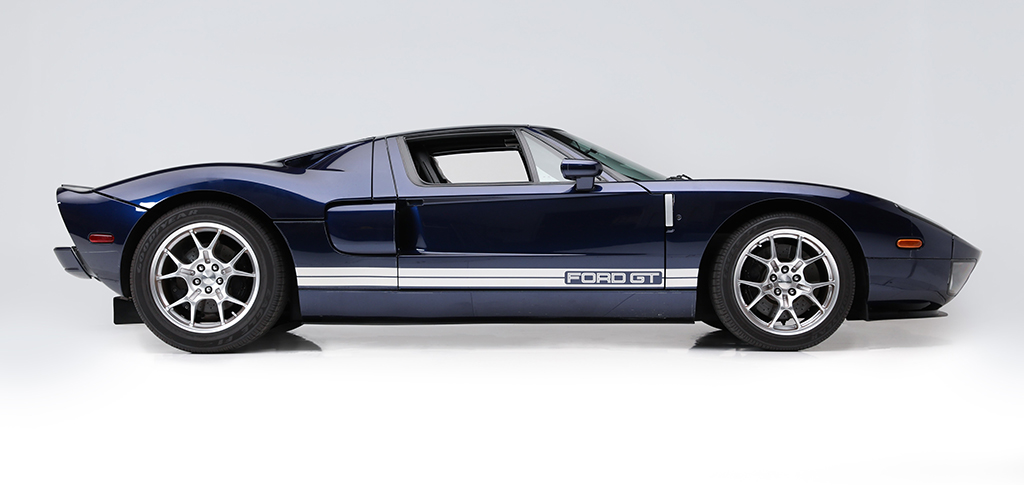 Ressler was inspired by Carroll Shelby's display at Barrett-Jackson's 2002 Scottsdale Auction, where Shelby had Daytona Coupes on display with the blue and silver paint combination. "In cahoots with Steve Saleen, who was in charge of the assembly and paint facility for the GTs outside of Detroit, we managed to sneak this car past the eyes of the Ford people who were supposed to be watching for this kind of rule-breaking," Ressler said.
This remarkable GT being offered at Scottsdale was built early in the 2005 production run, and has the billet suspension arms that were used on only a few GTs. It is powered by the 5.4-liter, 32-valve supercharged V8 with Ricardo 6-speed manual transmission that motivated all GTs.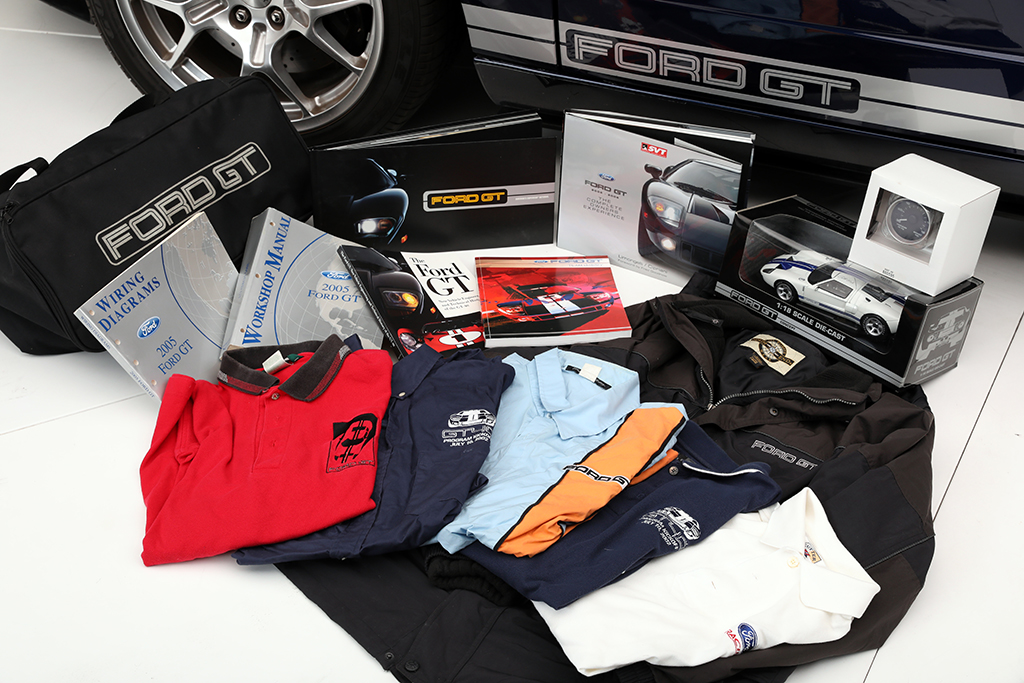 Additional equipment includes the optional wheels and audio system. The car is in original condition with 4,100 actual miles, has been stored in an air-conditioned garage and has never been on a racetrack. The buyer will also get items from the Ford GT Team, including clothing and a team book, which were only available to team members.
Neil Ressler's name might not be the one you see on the car's flanks, but he has as much invested in the car's creation as anyone. For any collector looking for a Ford GT with a thoroughbred pedigree, Barrett-Jackson's Scottsdale Auction in January is the place to be.
Visits: 254